I am not exactly going to put a whole lot of faith into an online IQ test, but this falls more-or-less in line with previous carbon-tests I have taken: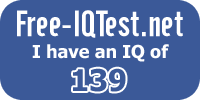 Free-IQTest.net - Free Online IQ Test
About what most of my tests say.  Guess I'm just another dumb-ass, gun-loving, drunken, redneck.  Well according the the anti-gunners.